Synopsis- The prominence of ecommerce website Development is unquestionable in the modern business world. Customer preference and expectations are fast changing and businesses are struggling to catch up.We know that ecommerce websites are now taking over all around the digital world and many consider it to be the future of retail. But, what is an ecommerce website development company and its relevance? If you are planning for any ecommerce development, here is the feature to tell its pros and cons and other necessary explanations.
What is an ecommerce website?
Ecommerce or electronic commerce is a model involving sales transactions being completed on the internet. Nowadays, every business deals with this structure virtually or is seeking an online shop site. Any website where you can acquire things available to be purchased over the web is considered an e-commerce website.
It wasn't new for an industry to inaugurate online shopping but the companies like Amazon or Flipkart genuinely paved the way to introduce the platform easier and in a most preferred way for maximum shopping lovers.
Although it is sometimes sceptical for people to believe in ecommerce websites, the developers have solved the issues to help its owners more against cyber-attacks and be trustworthy of customers.
An ecommerce website works basically like an actual store functions. Visitors can buy things, organize a delivery and instalments on a similar site without needing a call to any third party to assist them with their order.
There are plenty of ecommerce websites selling huge genres of products now like apparel to food to planting materials. One should be imaginative enough to make their brand more exceptional than the other. Indeed, even social media are becoming eCommerce platforms for different types of trades. It should be as functional to avoid any sort of human involvement.
Ecommerce Website development Process
Ecommerce Development Company and shopping is growing rapidly. Every survey says ecommerce development is the best approach for any progressing business. If you have an item for sale then you have an extraordinary business thought.
An ecommerce website development will fasten the reputation of your business, support you with growing your goodwill broadly and globally later to extend your professional network.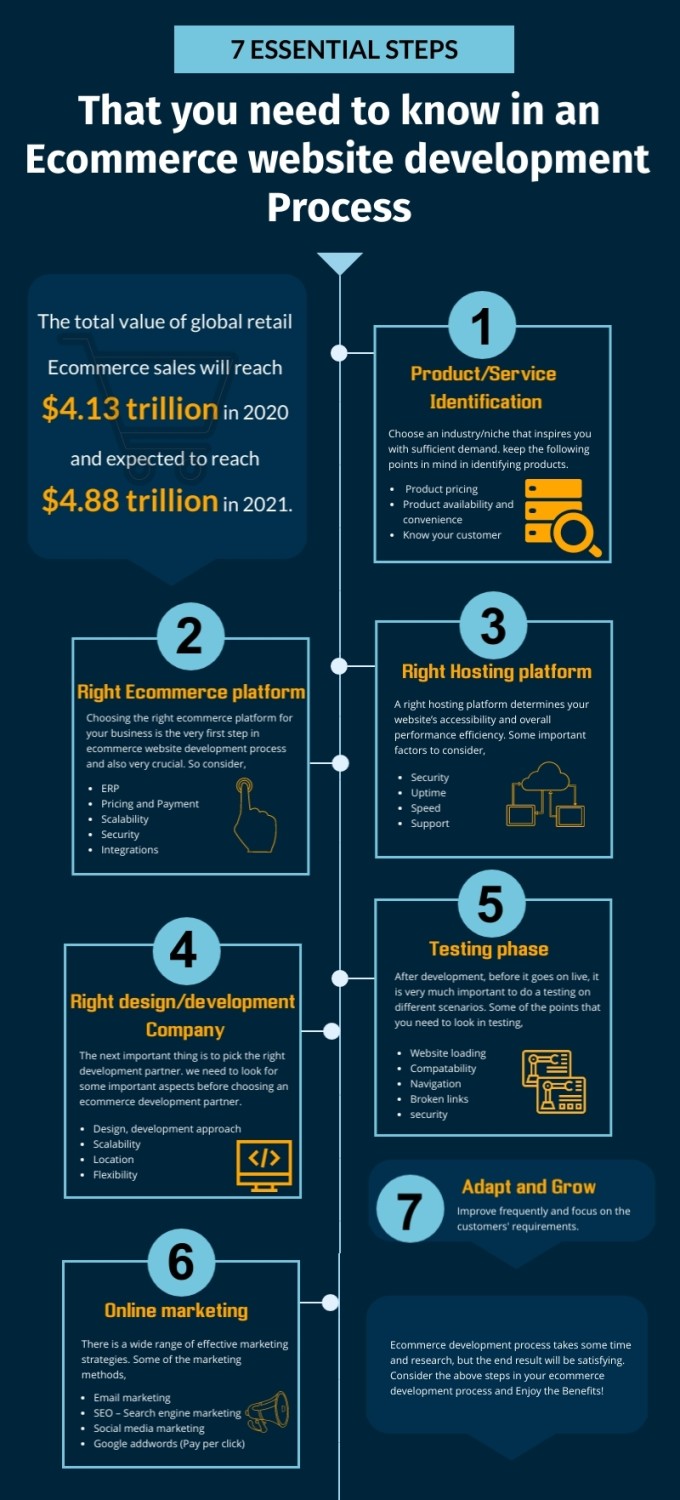 There are 7 simple steps involved in the process by ecommerce developers including technicality that will help you in regarding the ecommerce development.
1. Making strategy– every business needs a good detailing strategy. For example, everybody says that they have phenomenal user support, however, you're going into a reality where your life could rely upon your ecommerce development. Don't you need all day, everyday user- service and cordial staff i.e. accessible to troubleshoot issues anytime?
Therefore it's important to research each detail and challenges during business growth. List out every point that you'll need in future with the team and sort the issues that can come on the way before launch.
2. Right domain platform– choosing the right domain and platform will decide your shiny ecommerce development. You can choose between a custom domain or a regular one. Select a domain i.e. easy to use and adaptable at the same time.
There are experts available in the market for different types of ecommerce website Development as per the business's needs and they will ensure to make it comfortable even for the layman businessman. If you have an existing website, you can make changes as per the requirements and future scenario.
3. Payment plans– during an ecommerce development, there can be three aspects regarding the payment plans i.e. decision of pricing an item, modes of payment and money in your account. Factors deciding the price of a product are:
Web hosting
Cost of material
Shipping and taxes
Amount of money deducted from various companies like PayPal, Paytm, others
Flexibility
Third party payment modes
4. Designing pages– this is about designing a page or adding a product or it can be pages. Design as per the potential users likes your page and make it comfortable for them to use. Attract with the image that grabs the attention of the customers and adds more visitors.
Make the best possible theme to catch the eye of the users. Design the page pretending you are the customer in an ecommerce website. Designing the page or ecommerce website will build the direct relationship with the clients and makes your goodwill more efficient.
5. Experiencing checkouts– The ecommerce development checkout process is the series of stages a client should follow to buy things in their online shopping carts. The best checkouts will have a reasonable flow and will be intended to be consistent and frictionless for the client.
Remember that the quantity of steps that it takes to finish a buy fundamentally influences your sales conversion rates. Test your checkout cycle until it is great and ask your loved ones to test it as well.
6. Marketing strategy– When you begin fabricating an ecommerce development process, you need to elevate your products to build traffic and drive sales. Numerous merchants decide to sell from commercial sites like Amazon but wind up battling as a result of high charges and different constraints.
After an ecommerce development you'll require a strong promoting plan like coupons or discounts and SEO strategy to carry the right clients to your webpage and to save their love for bringing back to business.
7. SEO analysis– Social media is unpredictable and dominating quite often. Search Engine Optimization or SEO is an interaction that ensures your quality in the WWW world. If your page strikes in the right type of keywords and under the promising content, then you generally get this opportunity to work on your rankings and draw more money on your website page.
SEO has the right potential to help in increasing sales and generate ROI for your ecommerce website development since quite a while ago. Whenever done appropriately, SEO will put your ecommerce brand on top of the search results and will be responsible later for making you stand out of the cue and competition.
Custom ecommerce website development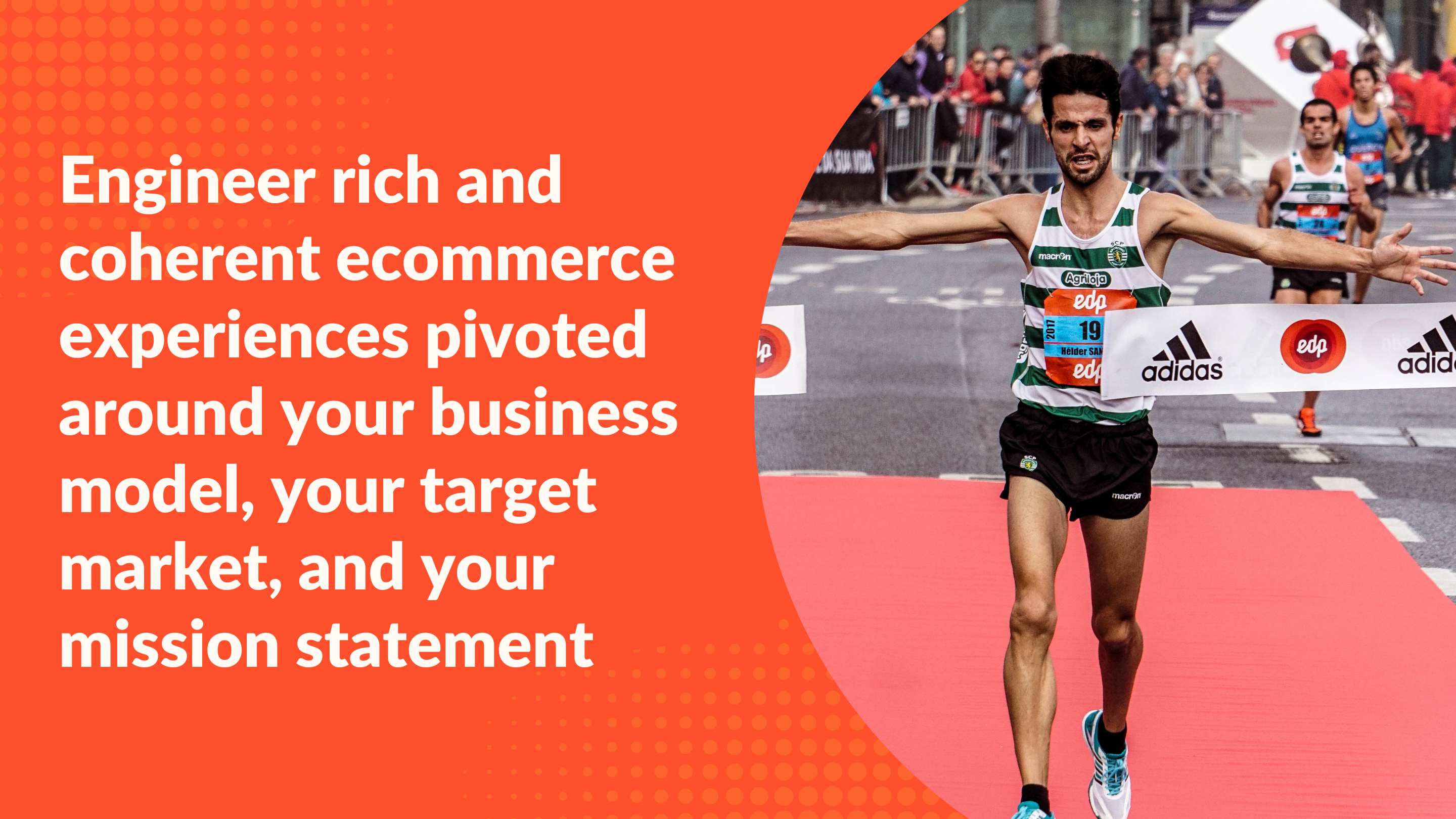 Custom ecommerce development is the method involving designing, creating, deploying, and keeping up with software for a particular set of users, functions, or associations. As compared to commercial software, custom software development focuses on a characterized set of needs.
Advantages of custom ecommerce development services: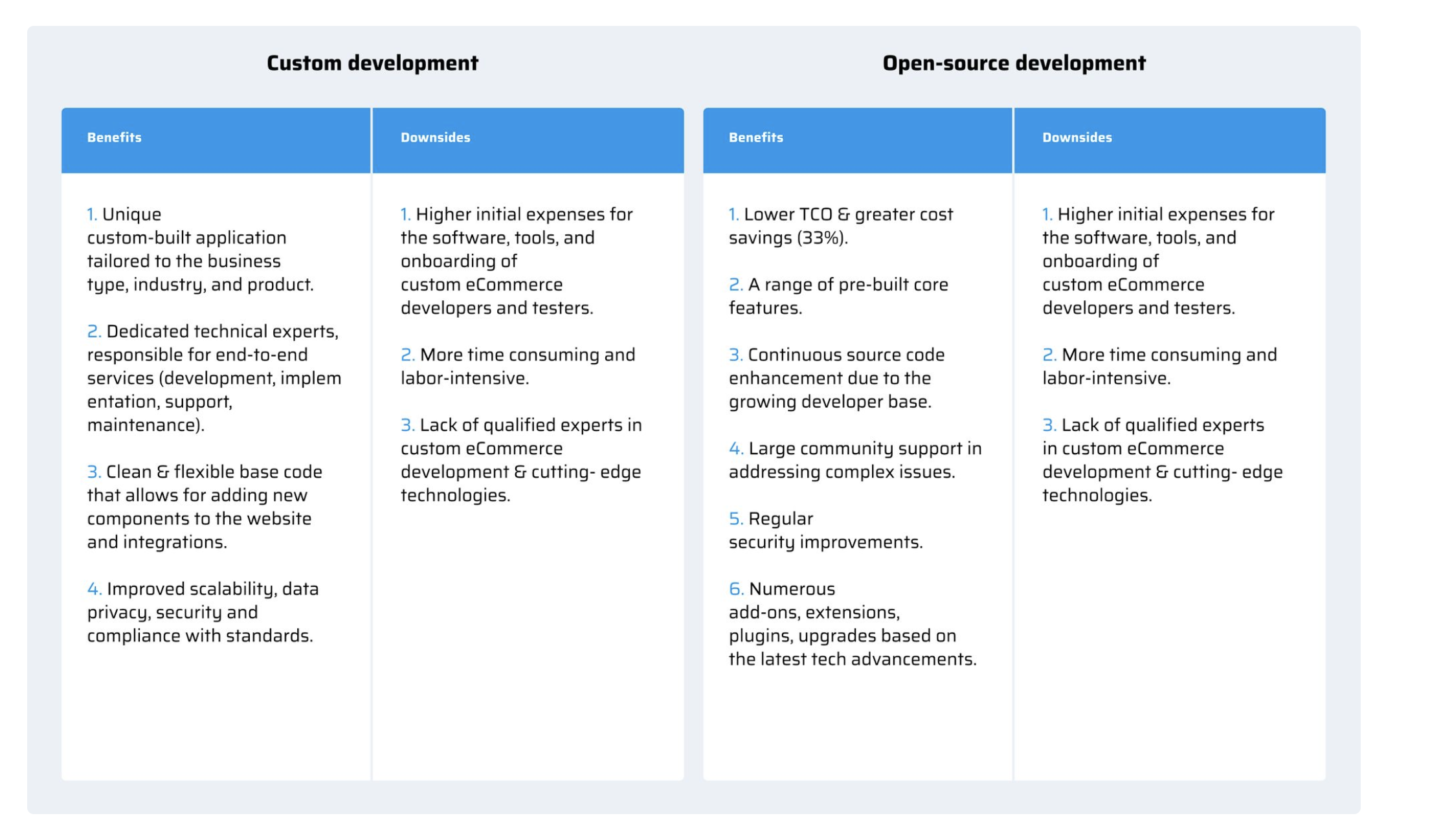 Progress in the Bounce Rate and Conversions- With a customized e-commerce service, you will actually want to fulfil your clients better, prompting more transformations just as an increment in client reliability.
Good SEO- SEO becomes progressively significant in the ecommerce development process for two key reasons i.e. producing new traffic and coordinating content for a convincing user experience driving conversions. Search engine positioned standards steadily approach flawlessness by tracking down the most applicable sites for search inquiries, so SEO drives traffic as well as produces different advantages like more transformations, more complex focusing on brand promotion.
Unification with business– The ecommerce business platform might be coordinated with your plan of action and promoting system for ideal activity. This is conceivable just with a custom ecommerce development stage and not with an off-the-shelf product.
Fabricating an appealing appearance– You will be customizing the look of your ecommerce website with excellent pictures, a decent UI, a consistent checkout measure, and so on, in desktop, PC, phones, and other devices with the assistance of a modified platform.
Simple upgrades- Old techniques on your ecommerce development can put you down. With a customized ecommerce website development, you will actually want to refresh to the most recent technology furnishing your clients with better execution and functionality.
Types of ecommerce website applications
The term business presenting the exchange of products and services. Ecommerce is a cutting-edge development that works with the trade of products and services through electronic means like the internet. The following are the different sorts of ecommerce organizations catering to various business models.
B2B– a Business-to-business (B2B) model of business includes the line of trade between a minimum of two organizations. The channels of such exchange for the most part incorporate traditional wholesalers and producers managing retailers.
B2C- The Business-to-Customer model manages the retail parts of ecommerce like the sale of goods and services to the end buyer via digital means. This empowered the customer to have a detailed look at their proposed requirements prior to submitting a request. A portion of the organizations working in this structure are like Amazon, Flipkart, and many more.
C2C– consumer-to-consumer is a plan of action that is utilized by consumers for selling used products and services to different consumers through the digital medium. The transactions here are sought after through a stage given by a third party cooperating with OLX, Quikr, and so on.
C2B- the consumer-to-business model gives the end consumers a chance to sell their products and services to an organization. The technique is well known in crowdsourcing-based projects. A C2B model is the vice-versa of a B2C model.
B2A- the business-to-administration model empowers online dealings among organizations and public services, for example, the Government by empowering the trading of data through central websites. It furnishes organizations with a stage to offer government openings like sales, tenders, applications submission and so on.
C2A- the consumer-to-administration model is intended for shoppers, who might utilize it for mentioning data or posting inputs concerning public areas straight to the government organization. It involves the spread of data, distance learning, remittance of statutory payments, tax return files, looking for appointments, data illnesses, health service payments, and more.
What are the Characteristics of a Good Ecommerce Website development?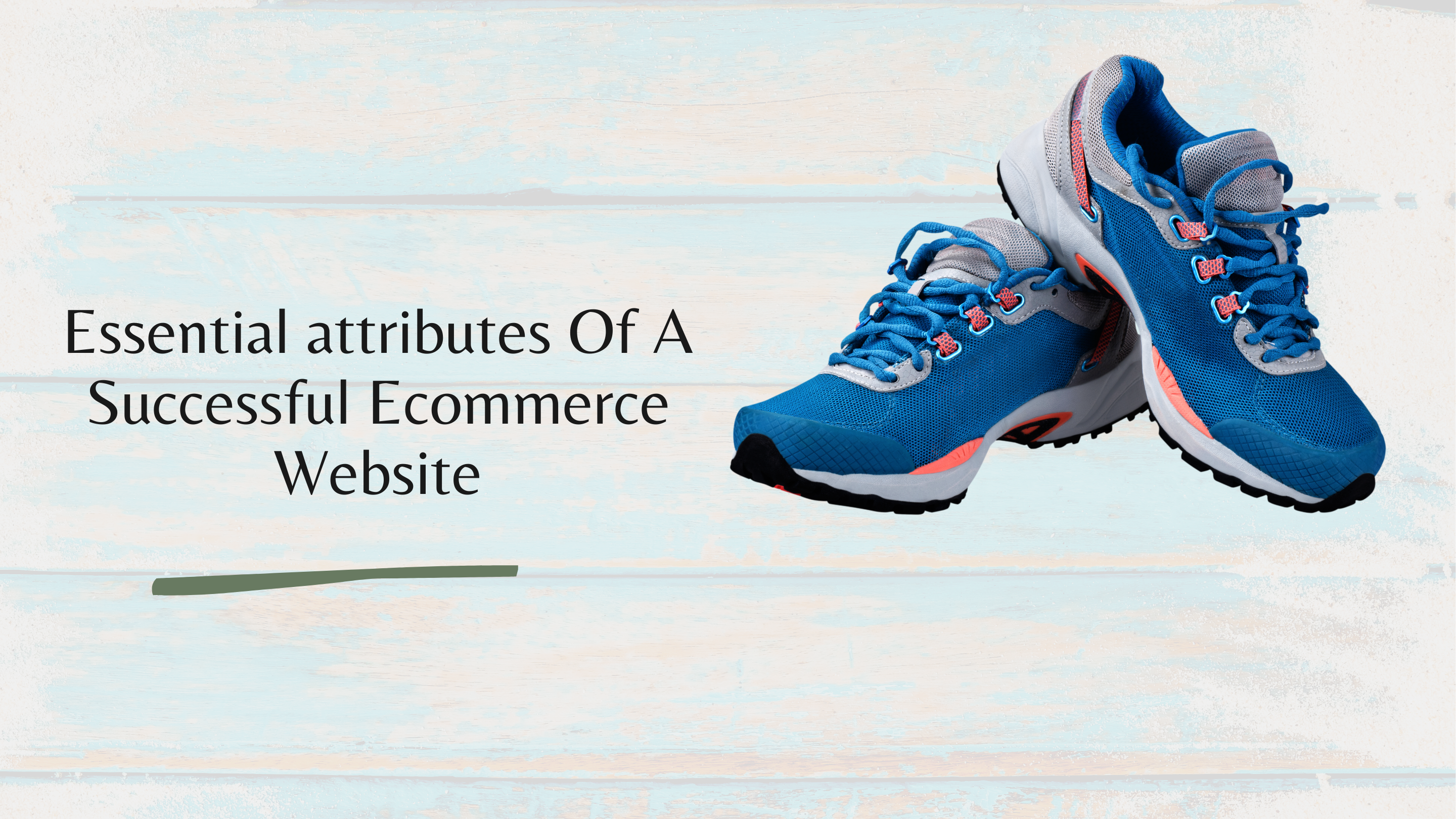 Today, the competition to sell your items in the ecommerce development economy has gotten harder day by day. The prospects of getting your ecommerce development items bought over by another ecommerce development company are far more difficult.
That is the reason you should have an advantage in the plan and the manner in which you can maintain your ecommerce business on the web. The characteristics of your ecommerce website development will decide its fate and good ROI.
Navigation– the design of the mapping will decide the number of visitors approaching your ecommerce website. If the navigation/mapping is not in its right position, users will not be able to find its destination and might be a reason to quit them permanently. Ensure that your ecommerce development does some client and configuration testing before launching the website.
Loading– the fast your website will load, the fast your website will rank in Google. Users find it easy and comfortable to the sites that provide fast loading time. If the website takes more time in loading, it can hamper its ranking from the search results. In fact, an online user has significantly less patience for anything to turn out worse than being in an actual store.
Policy– policies related to any ecommerce development should be clear and crisp to the users as well as to the dealers by the ecommerce developers. Regardless of whether it's a shipping part or any subject, all parts of making a culture of confidence and trust in your client should be transparent and easy to understand. People scrutinizing the security of utilizing their online payments must have a clear policy to provide a protected environment that will be useful to become a decent ecommerce website.
Checkouts– The checkout experience is the place where plenty of customers become part of the shopping cart abandonment statistics. When there is an issue with your checkout framework in your Google Analytics, this can be an arising problem in turning into a conversion rate. There should be an authentic platform where clients can make their profiles safely, storing their addresses and payment strategies. This will surely accelerate the checkout experience and duration of the users on your websites.
Design– The design of an ecommerce development should not be complicated and detracted from the shopping experience. Sometimes a simple website can grab the attention of the users effectively. Ecommerce websites that are simple but meet the needs of the users can rank on top in the future. At the point when a design detracts from the shopping experience, it is always unable to meet the navigation and tasks of reaching its visitors.
Goodwill- goodwill is essential to setting up a business and converting that business that clients will recall for a long time. Branding is basically an image of your mixed baggage that your clients will experience and works on feedback.  Goodwill and marketing will make a client go to your site and in any case, will review your site. If your ecommerce website doesn't draw attention then you are accomplishing something wrong or the market is extremely loaded.
Related products– due to the fact that tons of clients are searching for particular products, various designs, shadings, or materials that the item is made out of showing related items can assist with increasing a sale. Ecommerce shopping can relieve the users to go through similar kinds of products under one roof.
Product description– the description of the product should be 100% similar to the given product. The language should be easier, hand able and convenient for every user in the ecommerce development. It will otherwise ruin the experience for the customers as well as guarantee that they won't be bringing back the customers.
SEO– SEO is very vital for any kind of website. Ecommerce website development usually depends upon a good SEO structure. The language, loading time, customer's satisfaction and many other factors fall under the SEO definition. The more your website will appear on the search results or ranking in Google, the more your website will gain its goodwill. The website must be intentionally repeating items even if clients are not sure about its interest or possibilities.
Photo and video– the photo or video attached with the product or with its description depicts the real clarity to the customers. The image should tell us the story of the product even if the client doesn't want to read the description. Sometimes a confused client makes a positive choice based on seeing the images. At the end, an accurate and realistic product image will decide the maximum value to the users and benefits the website.
Guide to choosing the best technology for Ecommerce Website development
The technology in ecommerce development by the ecommerce developers refers to the programming languages that are utilized to create the ecommerce stage. You can see many programming techs online that are arising occasionally, in that you need to pick the best techniques for your ecommerce sites.
Java– this is the most famous language of all time and can build a full application to run on desktops. Java is perhaps the most ideal decision to construct under an ecommerce development as it is strong and adaptable, you might adjust the designs as per your desires and future well-being. It additionally contains viable tools that will support you with being more useful.
JavaScript– JavaScript is also a renowned programming language unlike Java that runs only on browsers. It contains coding and texts; it is helpful to foster ecommerce websites as it is effortlessly embedded in the code of HTML. Both front-end and back-end development will be upheld in JavaScript.
PHP– PHP is one most utilized language abbreviated as Hypertext Preprocessor. PHP is for the most part implied for ecommerce development. PHP is perhaps the most ideal decision for fostering an Internet business site. It is profoundly useful and upgraded with different provisions to foster the applications. You can have numerous systems for PHP. However, Laravel will be the best system to use alongside PHP to foster the best sites.
Python– like PHP, Python is also a great option to build in an ecommerce website development. It is productive and adaptable to make the best applications. We all know the social media sites like Facebook and Instagram which are created utilizing Python. The best system accessible for Python is Django. Both Python and Django together give the best functionalities to Facebook and Instagram.
Ruby– Ruby is undeniably a high-level language that is helpful to assemble web applications. Rail is a structure constructed using Ruby. Therefore, Ruby on Rails will be the most ideal decision to construct a substantial traffic in an ecommerce development process. Despite the fact that its execution isn't up to mark with the above technologies, it is highly recommendable to modify your store.
Mean– This MEAN stack (a gathering of all system technologies) is generally useful in creating ecommerce sites. The MEAN stack is particularly utilized for dynamic web application manifestations. MEAN is about MongoDB, Express.JS, Angular JS, and Node.JS.
Most used technologies for Ecommerce website development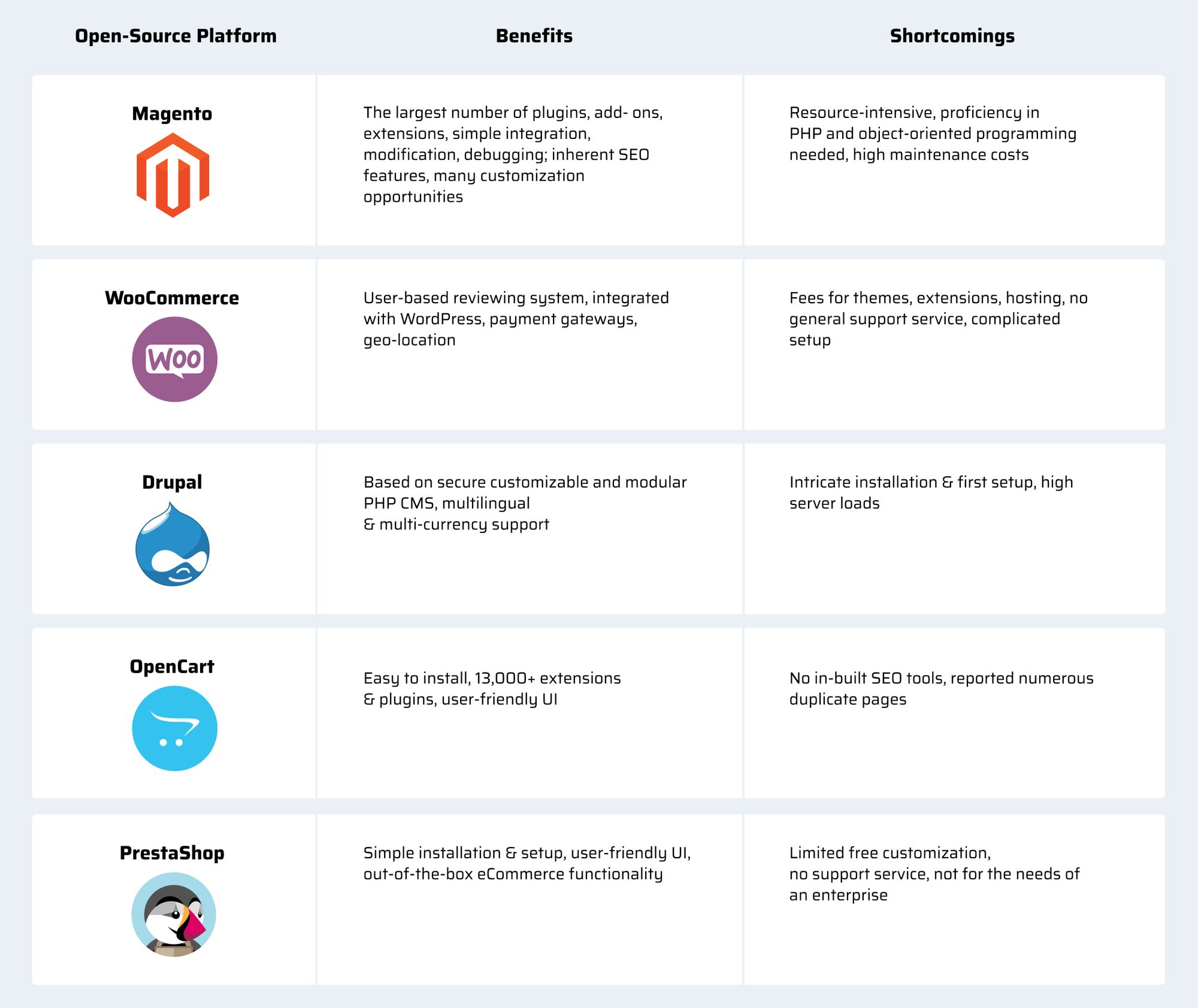 Magento- Magento is an ecommerce stage based on open-source technology giving online vendors an adaptable shopping cart framework, controlling the look, content, and usefulness of their online store. Magento offers incredible showcasing, SEO development, and catalogue-management tools. It has a variety of plugins and themes to enhance the customer's experience easily.
Shopify– Shopify permits brands to make an online store and sell items through various mediums. Dealers of all sizes influence the stage to control sales and at its pinnacle, Shopify fills at least 80,000 requests each second. A driving component behind the achievement of Shopify (and the organizations it serves) is its detailed tech stack.
WooCommerce – WooCommerce aids you in ecommerce development utilizing WordPress. It takes the fundamental WordPress working framework and transforms it into a completely working eCommerce store. This is the most famous approach to assemble an eCommerce store for fruitful websites. It controls 25%, a majority of the eCommerce stores in the top 1 million websites globally.
Bigcommerce– it is an ecommerce development platform that gives tech to brands and retailers to sell items on the web. Big ecommerce interfaces its client's online stores with all kinds of channels helping them in extending the dealer's scope to any place in their client's shop, consequently extraordinarily expanding brand presence, client acquisition, and cross-channel sales.
Opencart- This platform can be utilized for free by the clients if they have knowledge of how to utilize it while developing a robust ecommerce website or an application. In any case, if you need an expert in open cart development, you should reach out to an authentic ecommerce website development company, that can offer you support in creating ecommerce applications with the specialized expertise of open cart developers.
Drupal– Drupal is among the most broadly used open-source content management systems spending time with the likes of WordPress and Joomla. While it doesn't generally get acclaim similar to the easiest to use, nobody can deny the sheer adaptability that takes into consideration for customization and extensibility.
Volusion– Volusion is a full e-commerce web designer that offers website architecture, marketing and other business tools. Tools and services include monthly plans ranges upon your requirements. This was developed in 1999 and now it's serving more than 40000 online stores. It has free templates, web hosting, payment plans, customer management and others for a variety of industries.
OsCommerce- OsCommerce relates to 'Open Source Commerce.' It is an E-commerce and online store management software program. PHP and MySQL are needed for the ideal web server. Besides, it is accessible without expense under the models of GNU (General Public License).
SimpleCart– SimpleCart (js) is a light in weight, free open-source JavaScript shopping cart that gives customer-side ecommerce solutions for any website. Its primary benefits are effortlessness i.e. no databases and no programming required. SimpleCart (js) is quick, simple to utilize, and totally adjustable.
Squarespace– Squarespace is a web designer intended to help innovative personalities and site proprietors assemble mind-boggling sites. With Squarespace, you needn't bother with any coding information at all. Everything necessary is a small period, and you'll have a wonderful site, complete with things like built-in ecommerce checkout tools, a custom domain name, and even SSL certificate protection.
Top Ecommerce website development programming languages and frameworks 
Most of the organizations are changing to ecommerce websites during the covid-19 pandemic. Due to this, we are seeing the quickly expanding popularity of ecommerce shopping and ecommerce website development companies have become significantly more genuine than ever.
Regarding owning an ecommerce business, the first thing that strikes into our mind is the best coding language for ecommerce sites. Below, we will consider the best technologies for ecommerce website development.
FRONTEND DEVELOPMENT TOOLS:
JavaScript– For contemporary ecommerce, applying JavaScript is a simple and smart choice for every owner. It's an amazing tool to give significant upgrades to websites. This will also be adding an interaction to a web page for the customers to see changes related to their actions. Without it occurring on a page, a client can only scroll, click, and fill out forms. It will be hard to connect with the users to keep their records and attention.
Vue– Vue gives the most recent and progressed ecommerce solutions. The major expectation behind the operation of this structure is to ease web development. Vue focuses on the view layer and can be simply mixed into huge projects for front-end development. Some fundamental provisions of Vue.JS incorporate components, templates, transitions, and two-way data binding.
Node– Node is one of the most renowned and generally utilized by ecommerce developers globally to construct the next revolution in ecommerce. It's an ideal part of applications regarding real-time collaboration tools, chats, streaming mobile apps, or other applications that deal with multiple I/O operations.
Angular– Angular is turning into a popular structure for building an easy-to-use ecommerce platform. Angular ecommerce is the advanced technology of traditional ecommerce websites for correcting issues like cart abandonment, payment processing issues, checkout page issues, etc.  It has also has an interactive UI/UX design helping customers to engage with the site constantly.
React– React can make excellent customised ecommerce websites and web applications in effortless coding. It works with the formation of front-end website "components," or elements liable for UI functionality like buttons or data calls. These react "components" are measured bits of code and can be reused across different ecommerce applications or websites and in various areas.
BACKEND DEVELOPMENT TOOLS:
PHP– It is an HTML embedded scripting language improvising static pages with usefulness and the capacity to produce on-demand responses and this makes it a superb tool for ecommerce. PHP is nearly as pervasive on the web as HTML and available in almost 82.9% of websites utilizing a server-side programming language.
Spring– It is the most well-known Java structure with a 30% portion in exercise. The Spring Structure practices powerful development from basic Web to complex business applications. This is a significant open-source Java/J2EE application development system for more useful application development.
Python– Python is a versatile choice for an ecommerce development or application. It has a fast developing tool to speed up the whole process. It has genuine security features like XSSS, uses Django for best scalability. It also adds a huge variety of libraries and simple add-ons for best results.
Laravel– Laravel is a full package ecommerce development platform involving tools and features. It empowers users to conceptualize, imagine, develop, design, run, operate and manage an ecommerce platform. Laravel accompanies an easy-to-use merchant dashboard with single-page checkout, cross-selling, coupons, discounts, delivery options, and safe digital payment gateways.
Top Ecommerce Websites Development Trends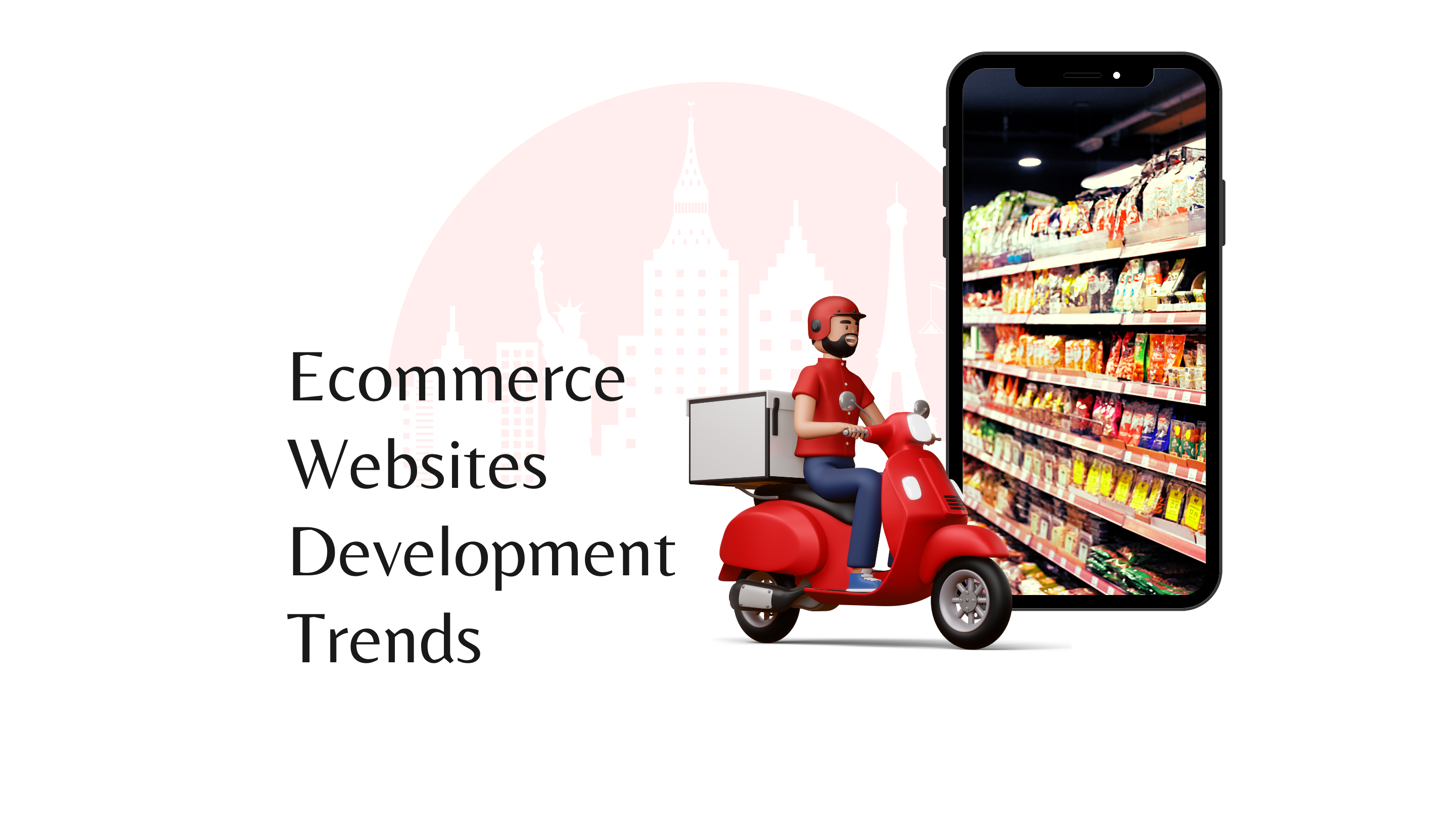 Making an ideal ecommerce website is a complex procedure. You need an appropriate arrangement and think about the most recent trends in ecommerce development to build a robust website. Trends are imperative to take a look at ecommerce development as they give us the most ideal approach to create websites. Here we will talk about the best 7 ecommerce website development trends to assemble an advanced and strong website.
Discovering voice– After the development and fashion of smart speakers and voice assistants like Google Assistant, Alexa, Siri, etc., audiences' lives have become unique and simpler from various perspectives. These devices and tools are here to separate individuals' lives and progress from "typing" to "speaking". Numerous ecommerce developments are giving different arrangements with respect to Voice UI that permits clients to look for items dependent on voice commands. Voice search additionally helps in SEO and is advantageous for organizations in various ways.
Business automation– Marketing or business automation is fundamental for online organizations to accomplish their objectives that have been set up for ecommerce development and revenue for multiple channels. You can give the best shopping experience and make efficient marketing campaigns to focus on the ideal crowd. Also, you should remember that marketing automation is something beyond automating email marketing and scheduling social media posts, it gives synchronization like customized landing pages and is easily accessible to shopping carts.
AI- Artificial Intelligence has turned into a renowned technology for ecommerce websites and a top pattern in custom ecommerce development. It will help organizations in various manners like item product recommendations and predictive analysis. AI with machine learning has been broadly used to develop client service and personalization.
Chatbots- chatbots are probably the best trend in ecommerce development. Chatbots are very useful for ecommerce websites as they automate human-to-human interactions. It implies that users can interact using chatbots on an ecommerce website to get various services rapidly and comfortably. You can also opt for a good developer to create an advanced version of the website.
Onsite personalisation- personalisation is very vital for any business to get customer's needs and attention. Personalization is very valuable for organizations to deliver unique user experiences dependent on their interests. You can pick Magento development, WordPress development, or some other stage to experience personalization and give a superior user experience and increment your revenue.
Payment plans- Online payments are convenient due to payment gateways. These are often given by numerous ecommerce sites like Shopify, WordPress, plugins, extensions, or third-party apps. You can pick Joomla development or recruit a Shopify designer or pick different platforms to make an ecommerce website with a safe and effective payment gateway. These days social media has also been doing payments from WhatsApp payments, Facebook payments, and so on in online shopping. They are giving better approaches for making payments for ecommerce.
Headless and API- Headless ecommerce is a solution empowering online stores to 10 times the ecommerce platform from the front-end presentation layer. Thus, online organizations can use DXP, CMS, and PWA, or other existing or customized front-ends in their tech stack. Recently it has seen a leap in the utilization of headless ecommerce sites. Indeed, it will see an increment in the acquiring of new headless front-end solutions like PWA (Progress Web Apps).
How long does it take to develop an ecommerce website?
Whenever there is an ecommerce development process, there are two simple questions that strike into our minds i.e. duration and cost. But unfortunately, the answer to both the questions is 'depends'. It depends upon the various elements included in the process. For example, hiring process, advanced features or importantly, a third party involvement.
The third party is involved mainly in large scale industries and DIY is commonly involved in small or medium scale business. So let's read out the details below regarding hiring the third party or do it yourself (DIY)
HIRING THE 'THIRD PARTY'
Proposal- The proposal platform within the deadline could last somewhere in the time of 6-10 weeks. During this platform, the organization and ecommerce developers will have things to do, such as keyword research, content, technical recommendations, technical audit, and much more.
Wireframes– the deadline of the architecture or wireframe can be within 2-4 weeks. This comprises a framework of the pages on the website and a visual blueprint on the on-page content that will fit together by the ecommerce developer. The feedback will constantly be running in the process.
Design- the deadline of designing the ecommerce website by the ecommerce developer can be 4-10 weeks. This will include the homepage, subpage and a screen size. The design of any website is very important as it can be the first impression from the users and accordingly the visitors will decide to move forward with it or to quit them permanently. The design should be easy, quick and memorable for any visitor to come over again.
Development- the development done by any of the third party or ecommerce developers will take around 6-10 weeks as it depends upon the size of your website. Although the small website might take around one month depending upon the features. Keeping in mind the SEO, it might vary from time to time in all types of industry.
Support- The support stage within the course of time will always be continuous till the launch of a website. You need to ensure that the website is attractive and unique, involving the composition of new and trendy content, Images, designs, and user experience quite often.
DO-IT-YOURSELF (DIY)
There are many websites and videos tutorials available for making the ecommerce websites. If you're fabricating an effortless and convenient blog and a normal theme with customization, it will take approx. two hours to make. For a ecommerce development adding a little more intense settings like homepage, contact us and about us page, blogs, and a modified theme will take around eight hours.
Developing a facile ecommerce website will require around 20 hours including listing and ordering your items and interacting with numerous customer transactions. Another factor related to a timeline for website designers is a blog. The average blog will acquire around 2-4 hours. Planning and research in regards to blogs will take at least 4-7 hours. A high-quality blog post usually takes 7-20 hours to write and draft.
The timeline has many components for you to consider in constructing a website. There are advantages and disadvantages while hiring a third party or ecommerce developer or in DIY. However, by the end of the day, your objective will be very similar. A website must embody your goodwill, satisfies your business objectives, addresses your client's issues, and is visually engaging.
How much does it cost to develop an ecommerce website?
As it is mentioned above there are two questions that always arise in our minds when it comes to building an ecommerce development company and i.e. cost and duration. The concept of the 'duration' is cleared above but the elaboration of the cost is yet to be cleared below.
The popularity of ecommerce websites is evolving. It brings huge revenue to entrepreneurs and showcases great potential users. But still, it is hard for businesses to evaluate exact ecommerce development costs. This is the reason to give you an analysis of the cost for better knowledge and useful experience.
Low price cost ($5 to $13 per hour) – this will lack specialisation, portfolio, quality and an estimation. Ecommerce development company offering such packages can grab the attention more to the clients but will never be at risk for an authentic ecommerce website development. This can end up in poor delivery and danger to goodwill.
Supreme cost ($180+per hour) – they are meant to take the large scale enterprises and often medium industry. There are some ecommerce development company available in the market offering decent packages and presenting good quality products. The ecommerce developer working with these types of companies is guaranteed to communicate transparent features, services and introduce an advanced and updated technology to the customers for the better client satisfaction.
Average cost ($20-$30per hour) – they will claim to deliver the proven results, satisfactory products and services, variety of portfolios and proper transparency between the parties. With this price-planned ecommerce development company, you'll get a chance to encounter directly with a company's executives or ecommerce developer. The price may vary remotely and with the additional features. Also, there are frauds available in the market in this price plan. One needs to be careful while choosing the right plan for your project and for the sake of goodwill.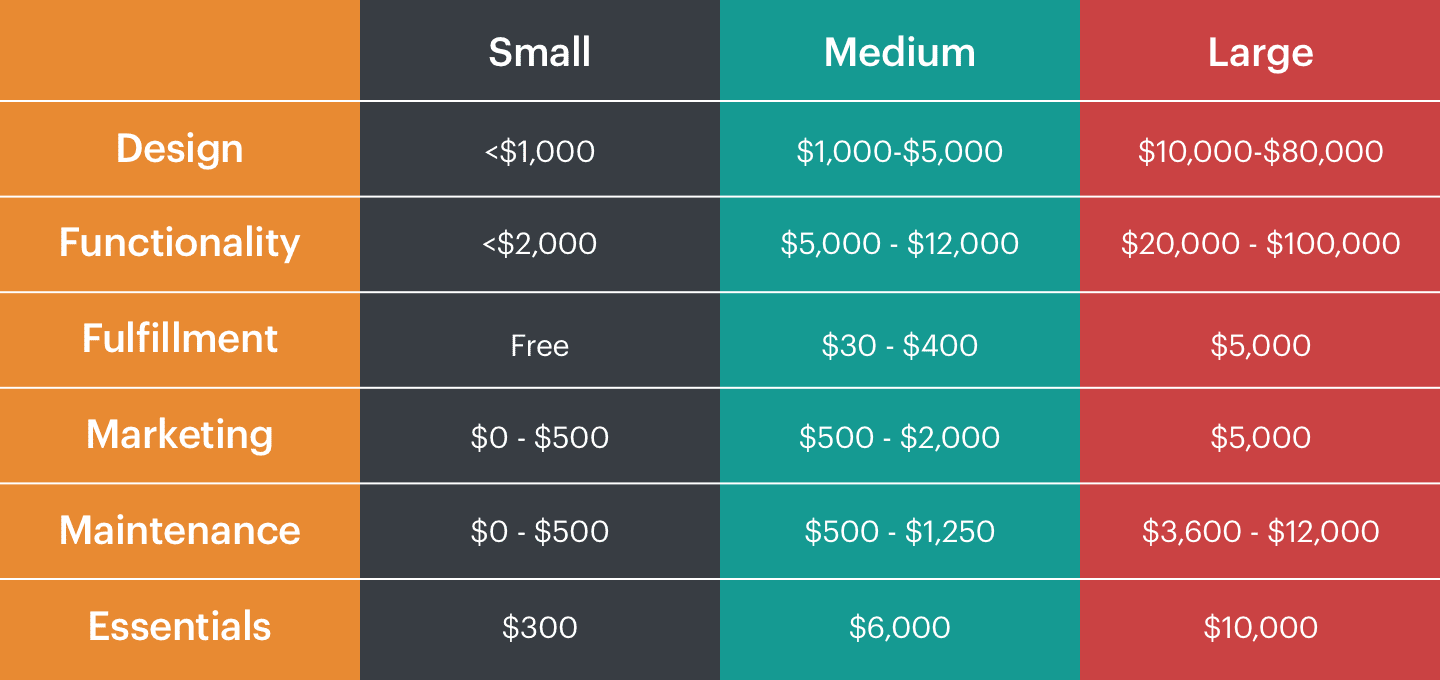 Guide to Selecting an Ecommerce Websites Development Company for Your Business
Every business is trying to convert their offline business into an online entity. As per the Statista survey, more than 17% of the retail shops will turn into ecommerce websites at the end of the year. Isn't there competition in the market?
In the scenario, it is therefore important to pick the right ecommerce website development company. Choosing the right platform contains numerous factors and tips that will be discussed below.
Portfolio– before contacting the ecommerce website development company, it is relevant to look into the portfolio. This will depict the image of the brand and its related goodwill. This will also evaluate their past practices, exercising the present and help you in deciding your business's future. Navigating the brand or homepage will present the impression and fate of your business. List down the elements that will encourage in building the website and go through their portfolio for checklists.
Transparency– the transparency between the parties is crucial for any business to grow. The intra-communication will make the relationship between the ecommerce website development company and the client strong and this will enhance the business. Detailing the features, advance technology or related issues and queries is the duty of any company to tell the clients and gain trust.
Feedbacks– Approve each organization's reliability through their surveys, reviews, and testimonials. Feedbacks will assist you to move ahead with an ecommerce development vendor by considering their past client's experiences. If the appreciation of the technicalities is shown, proactive communication, rapid delivery, etc. proving that organization might be an ideal choice for you.
Budget– Each industry has a price plan for every investment favouring business. The more you opt for the advanced feature, the more you will get the perfect website. There is a variation of pricing plans from low to high. You can choose your budget plans with the ecommerce website development company as it will be good for your business. Ensure no secret charges are included and later surprises.
Designs– Ecommerce websites need a group of designing abilities rather than different sorts of websites. An ecommerce development company ought to have selective design components of being natural, vivid, and effective navigation. Search for a good ecommerce developer team and organize a meet to get the latest information about the designs in ecommerce sites and check their capability. An e-commerce web design influences its search engine rankings as well.
Deadline- meeting a deadline is supremely important for any business to grow. An ecommerce website development company meeting the needs of the clients within a particular time period will only gain a profit in the future market. A team consists of qualified engineers and claims to complete the tasks on time will be a perfect fit for your business.
Post launch support- The ecommerce website development company you pick must be prepared to offer support after launching the site. This is important to require technical assistance after the go-live and to avoid any gap. Having a single seller handle your site will decrease your functional issues and hustle.
Inference to the topic
As it is said, there is always risk involved in any business procedure. The ecommerce website development company takes some time and research for fulfilling outcomes. Say yes to the ecommerce development company that satisfies your needs, has transparency, and meets your check points. With the assistance of this feature, you can also comfortably utilize any of the ecommerce development company tools and begin making your online store. Never forget to double check your checklists before starting with the process.
Still, want some more tips regarding the correct ecommerce website development company? Ateam soft solutions will comprehend your vision and acknowledge it by directly speaking with you and permitting you to set expectations. Contact the project manager at sales@ateamsoftsolutions.com.