In today's fast paced and high-tech world, businesses are raising their bars by keeping their customers happy and satisfied with their fast services. Due to this rapid, error-free order fulfillment at low costs, customers now expect consistently better shipment services, without any mistakes like wrong item delivery etc. As a result, small to medium size businesses should be concerned about their performance getting impacted due to their Warehouse Management System.
Warehouses & distribution centers face many different challenges and the truth is, in this competitive environment, Small to Medium Businesses (SMBs) cannot afford to keep using a manual paper-based approach for warehouse management. However, businesses around the globe are facing some issues in adapting to a single consolidated platform for automation of their workflow, leveraging their core business resources.
When it comes to online retail, the "one suit fits all" strategy does not work with everything including backend, inventory management, stock keeping and shipping. This is where a Custom Warehouse Management System comes in and fills up the void – to keep everything in order!
Let's understand why a Custom Warehouse Management System (WMS) has become essential for businesses –
Contents:
Secure, scalable, and intuitive web applications
Trust us to make your Brand Fly High with the web development solutions that will reflect your business to attract more loyal customers.
Let's Talk
Let's Skype Chat
Why a Custom WMS?
Companies operate through multiple distribution centres and fulfil orders through shipping carriers. They need to check the availability of the stock against the orders and make sure the right orders are sent out and the customers receive them on time. However, a generic inventory management system or software is not fit for the workflow. This is why companies require a custom warehouse management system which allows them to create a transparent system for all the operations such as stocking, accounting etc. and improves the quality of services!
Here are the benefits of using a custom warehouse management system –
Reduce Warehouse Costs

An optimized warehouse management system helps reduce the cost of maintenance. Available spaces can be used without waste, efficient workforce distribution between high or low priority tasks, easy detection of expired items and flexible inventory flow. Custom systems can even be equipped with floor simulators, allowing business managers to lay out the way the furniture can be placed at the warehouse.

Improve Customer Service

Custom WMS offers benefits to both suppliers and customers. You will be able to reduce the waiting time on docks or bays, speeding up the supply chain. And on the customer's end, the products will be delivered much faster and real-time updates about the product availability can be provided.

Increase Accuracy and Productivity

With the help of custom WMS, you will be able to get in-depth data on the state of the inventory and stock, get real-time updates about any particular product. With this, you'll:

– Reduce error-induced operating costs

– Timely plan restocking

– Get insights on shipment delays or other possible risks

– Forecast future capacity

Business managers can take a productive approach to problem-solving and increase productivity and efficiency of the warehouse.

Enhance Flexibility and Scalability

Business managers can create consolidated data systems to store information from all warehouses and shops and improve the quality of employee allocation between multiple sites. This will help ensure all warehouses work efficiently, analyze and compare on-site workflows. WMS will help customize documentation templates and speed up the billing, taxing and reporting processes.

Boost Transparency

Custom WMS will improve warehouse visibility and inventory tracking, which will create transparency in regards to state of stocks, warehouse capacity and deeper insights into team capabilities. It will improve transparency of processes within the company and business managers will be able to track employee work habits and stop malpractices instantly.

Ensure Compliance

WMS will help businesses comply with governmental policies as the system will allow managers to check if all the provenance and delivery paperwork of the goods is done properly, everything is stored in the warehouse, has the right packaging and so on. Custom WMS is important for efficient quality control as it helps track shipping, packaging, layout efficiency and alert the managers if there is any issue.
Pros & Cons of a Readymade WMS
Readymade products are often used by businesses who have not adopted automation yet or are not ready to invest in custom products. Though readymade management systems have its own pros and cons –
Pros :-
Quick to Deploy – It only takes about 10-15 minutes to register or set up an account and get the subscription for a readymade tool. The entire team can get familiar with the tool within a week. As a result, the return on investments are quicker as compared to custom products.
Large user community – Readymade warehouse management systems have a wider or larger user base that will share tips, maintenance hacks and so on. This way, you can always find someone who will answer tool related queries.
Lower initial cost – Off-the-shelf warehouse management systems are more viable. If you want to try out the idea of WMS implementation, this is your safest choice.
Despite the low costs and other benefits, a readymade warehouse management system has many drawbacks.
Cons :-
These systems require additional components – Readymade warehouse management systems are more likely to lack the features which are required to manage the business efficiently. In this case, you will have to hire developers to upgrade the tool which will increase the overall cost.
Subscription costs add up over time – If you are just trying the tool and do not plan to use it for a long term, the initial cost of the system will nullify itself. Over time, the manager will have to spend more paying for subscriptions as opposed to a custom tool development.
Features and Requirements of Warehouse Management Software
Most of the warehouse management systems are oriented towards the physical and logistical aspects of the warehouse management. While considering a WMS, make sure you get your warehouse management functional requirements sorted and have all the features you need in hand. Make a checklist while selecting the solution, so none of the features are forgotten. Let's take a look at the key features and functionalities of WMS –
Inbound and Outbound Operations

Working with vehicles that bring in physical products and materials is the very first step of the warehousing process. Manifest tools for the trucks will help input data into the inventory system and prepare the warehouses for incoming goods. Then the items are organized in the storage with the help of barcode scanning, radio frequency ID tagging and other physical processing. Some WMS can label and identify each item the minute they arrive and get the organization process done.

Pallet estimate features will help with loading and unloading pallets, while pack & ship features will help get warehouse materials and products out the warehouse. Other features of the WMS can manage processes such as kitting and cycle counting, cross-docking etc.

While selecting the platform, keep an eye on these key features:

Inbound Operations / Receiving
Put away Management
Advanced Shipping Notifications
Shipping Scheduling
Picking and Packing
Value-Added Services
Product Lifecycle Management

Order and Fulfillment Management

The WMS can optimize the order and fulfillment process and enhance order management. With reorder features, parts or products can be automatically ordered in a routine order. Some platforms provide access to carrier networks which speed up the shipping process. With AI and machine learning incorporated in the WMS, companies can boost up their efficiency and speed, and reduce or remove the manual work.

WMS often include specific inventory management tools for handling specialized types of products and materials – tools such as perishable goods tracking and FIFO/LIFO protocols, which are backed by digital planning tools. This keeps the products fresher and decreases wastage.

Look for some of these features while selecting the warehouse management system:

Automation and Artificial Intelligence
Compliance and Regulation Management
Carrier Networking
Order Management
Automatic Re-Ordering
Inventory Management Tools

Tracking and Analysis

Many WMS allow companies to aggregate business intelligence from warehouse operations, which includes features like real-time tracking to maintain inventory. Which means, you can track inventory levels in real-time and restock when necessary.
Other tools include KPI analysis, workflow management tools to know what's going on within the warehouses. Decision makers can gather high-quality data and determine whether to make changes in key business processes and how.

Along with that, many WMS come with multi-location tracking. Features like language, currencies and tax can help support international operations and fix accounting issues.

Keep these features in mind while selecting a warehouse management system:

KPI Management
Business Intelligence Integrations
Workflow Management
Multi-Currency Support
Real-Time Tracking
Multi-Language Support
Tax Integrations
Structure of the Warehouse Management System
Take a look at the structure given below. It's a structure of the project and technologies you could apply for development.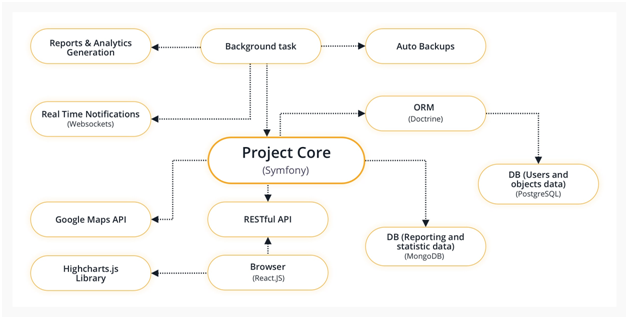 Manager Dashboard
The first thing that managers will see after logging into their accounts is the Home Page, which gives them a clear idea of the system workflow. As a Manager, you will find the following options in the main menu: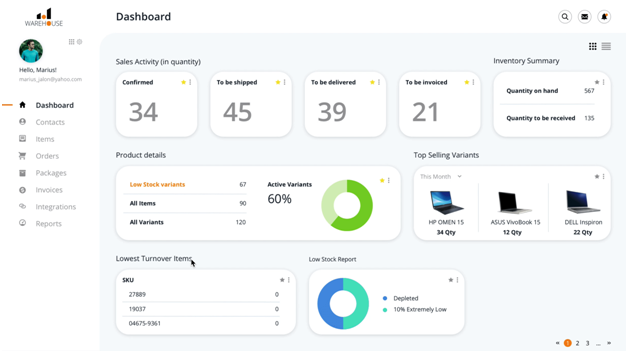 Contacts
Items
Orders
Packages
Invoices
Integrations
Reports
Now let's see and understand each feature and its functionalities in detail. Keep Reading!
Contacts
With the Contacts feature, you can easily find all the detailed information about your customers – their names, e-mails, phone numbers, billing and shipping addresses, website information and so on. All the information is saved within the WMS, making it easy for you to create the transactions quickly and carry on business efficiently. Not only does the system allow you to send the emails and view customer information, it also lets you easily create sales transactions for your customers. Below is the table showing you the information you can find under Contacts: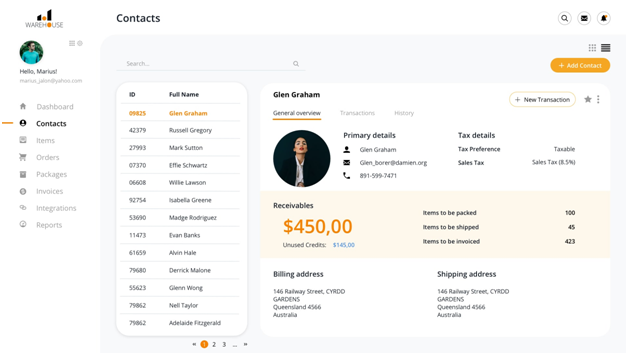 ID
Full name
E-mail
Company
General overview
Transactions
History
Items
You can access this feature by clicking on the "Items" option under the main menu. Items are the products or services which your company is delivering to the customers/clients and which can be purchased from the vendors in the business. Not only does the WMS let you view and operate the items, but it also lets you analyze the items in your WMS solution. Below is a well-structured table of the information you will find under this feature: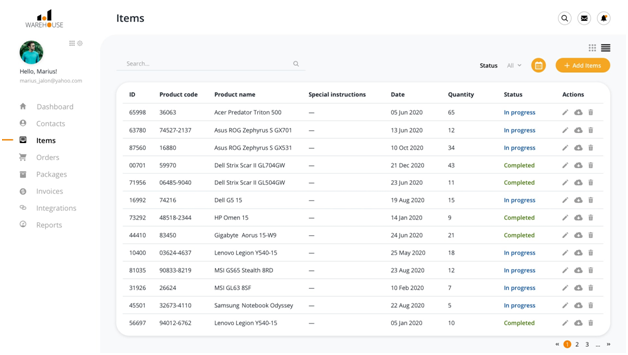 ID
Product code
Product name
Special instructions
Status (in progress, completed)
Date
Quantity
Actions
Orders
This feature can easily be accessed from the main menu as well. Under this feature, you will get all the detailed information about the sales process, which includes quantity, prices, delivery and so on. Take a look at the given table, presenting the columns you will see: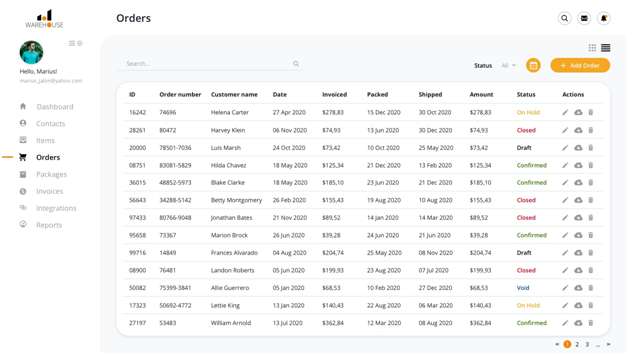 ID
Date
Order number
Customer name
Status (Draft, Confirmed, Closed, Void, On Hold)
Invoiced
Packed
Shipped
Amount
Actions
You will find the "Add Order" button on top of the Order list page, which will allow you to create new orders  and enter important details.
Packages
You can access the "Package" option from the corresponding option in the main menu. This feature allows you to choose your customer's order which you want to ship and assign package slip numbers to the order items. See the table presenting all the information you will see under this feature: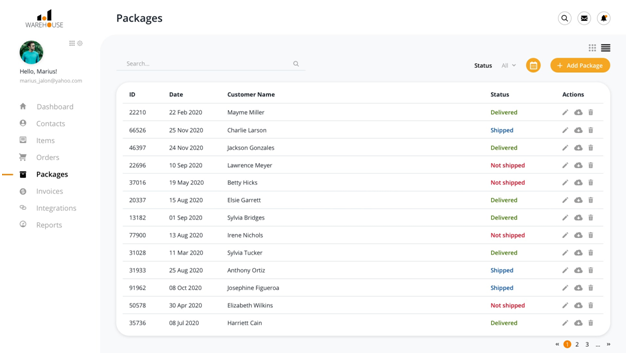 ID
Date
Name
Status (not shipped, shipped, delivered)
On the top of the packages page, you will find the "Add Package" button and a filter which will allow you to sort packages in terms of the status you need.
Invoices
This Invoice option is available in your main menu. With this, you can provide all the information about the sale, including units of goods, prices, shipping details, etc. See the table presenting all the information you will see under this feature: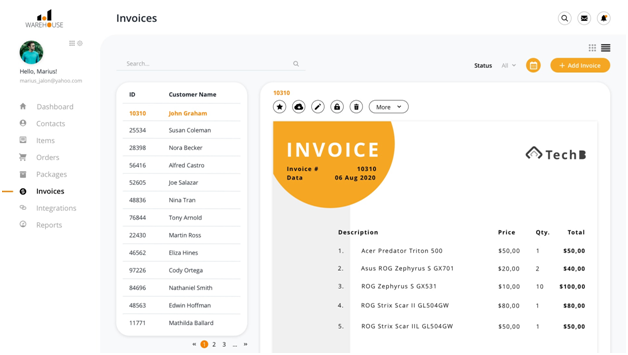 ID
Name
Date
Amount
Paid
Status (sent, paid, overdue, refunded)
Actions
When you click on the user's name, you will see an invoice with all the information about that user's purchase. You can also add new invoices with the "Add Invoice" button on the top.
Integrations
This is another feature available in the main menu section. With the Integrations feature, multiple separate components can be connected, like payment gateways, shipping carriers etc. which will work as one system. Not only does the WMS help you to analyze the business processes better, it also enables you to boost up and improve the productivity and workflow of your company. On the top, you can see the "Add" button which will allow you to add new integrations. See the table presenting what you will see under this feature: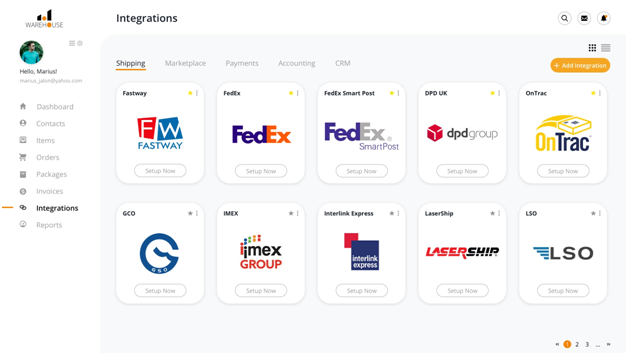 Reports
You can directly access the Reports page under the main menu section. This feature lets you professionally optimize the business processes within your company. Due to which you can reduce expenses and manage risk better. This feature helps you make informed data-driven decisions and succeed by identifying the most profitable items and monitoring sales and purchases.  Below is a well-structured table of the information you will find under this feature: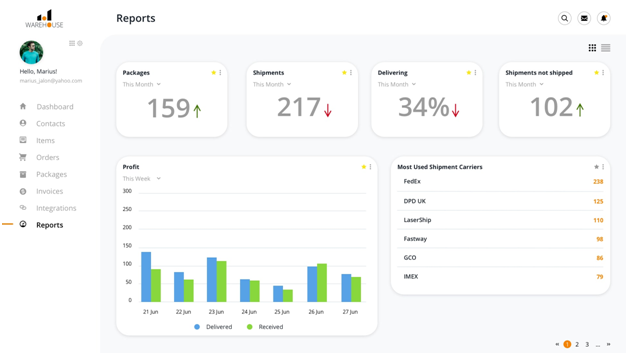 Notifications
All the users of the warehouse management system can stay up-to-date with the Notifications feature. Users can also set how they would like to receive the alerts and notifications within the WMS. Not only does the system help the users be more aware of what's happening in the WMS, but they also get notified about any changes such as shipping, invoice status, inventory, back orders and so on.
Now let's look at what the Administrator sees after logging in –
Administrator Dashboard
The below-mentioned table shows the home page, which is the first thing that an administrator sees after logging into the account. It provides a clear picture of how well the business or the company runs and shows – top-selling items, sales, stock summary, recent invoices, number of orders shipped and a lot more. An administrator can access various important areas of the WMS such as: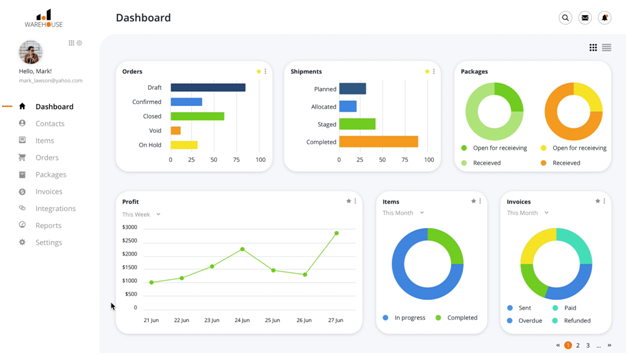 Contacts
Items
Orders
Packages
Invoices
Integrations
Reports
Settings
We are now going to provide you an overview of the Settings feature which is not presented in the Manager Dashboard.
Settings
This feature can be accessed from the main menu of the Administrator. On the Settings feature, the administrator can see the following widgets: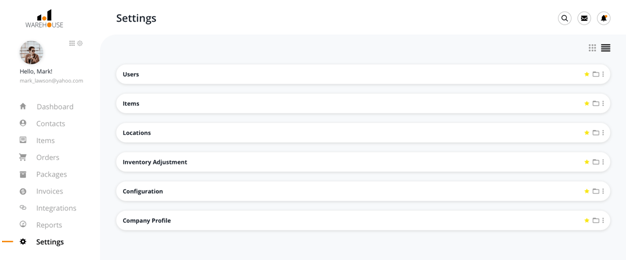 Users
Items
Locations
Inventory Adjustment
Configuration
Company Profile
When you click on the Users widget, you will be redirected to the "Users" page, where you can make some changes such as:
Users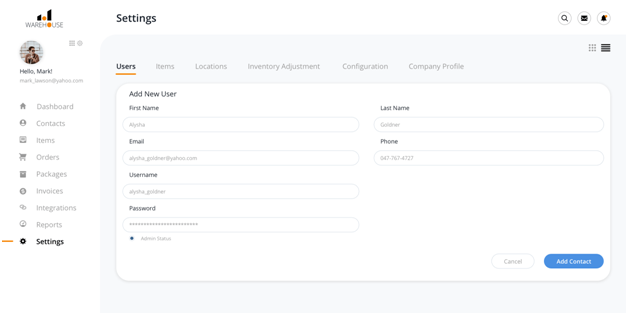 Buy more users
Add a new user
Set up the maximum number of users
When you click on the "Company Profile" widget, you will be redirected to the page where you all the information about your company can be edited:
Company Profile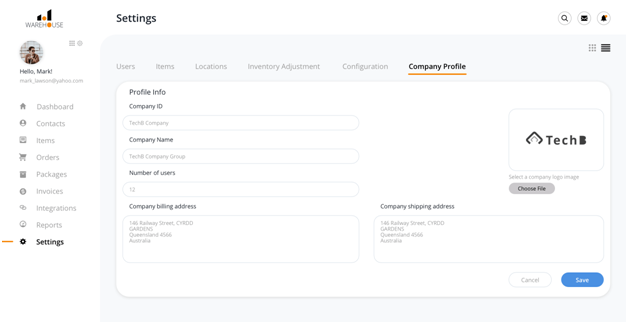 Company ID
Company name
Number of users
Company billing address
Company shipping address
Conclusion
Warehouse management systems are essential for businesses with ambitions to scale up, expand and manage the business efficiently. It provides owners with all the insights about the warehouse operations, inventory, supply chain and lets then fully automate the management framework.
A warehouse management system has everything that a warehousing operation needs to succeed. Therefore, you should take your time while selecting the perfect solution which fits all your requirements. Keep in mind the features and key functions that you require while looking for a WMS for your company.
Undoubtedly, a custom warehouse system is the one-stop-shop containing everything that you need to enhance your company's productivity. And we, at aTeam, have vast experience in delivering the perfect solutions to match all your unique requirements.
We are a team of exceptionally skilled software developers and have developed dozens of software for over 300+ companies. We will analyze your business needs and help you develop and implement any kind of solution that will improve your company's efficiency, generate better revenue and take your company to the next level!
aTeam would love to connect with you and discuss your project!
Contact us Today!
Our team looks forward to serving and helping you achieve your business objectives. Talk to our expert today! Drop a mail to sales@ateamsoftsolutions.com