The Ultimate Guide to Software Development Outsourcing in 2020
The technology industry has witnessed a revolutionary change with the advent of disruptive outsourcing. This kind of outsourcing involves technological advancements like automation, cloud computing etc.
According to the 2018 Deloitte survey, 500 executives from leading organizations have stated that disruptive outsourcing has helped them increase their productivity and competitiveness in the market.
Emerging trends and solutions in cloud and automation have enabled various tech industries to scale faster and reach the global market. Outsourcing is a valuable strategic tool, especially for the tech industry.
For example, outsourcing an activity like software development, Software maintenance to a vendor helps to cut down operation cost and also helps to focus the resources on the business logic. Moreover, technology is rapidly changing and it is difficult for your in-house team of developers to be good at everything.
Outsourcing of services opens up the immense possibility of working with expertise that is not available to individual companies. Your workforce instead can focus on the core competencies of the company while IT services are handled offshore.
According to the surveys of Deloitte, 31% of all IT-related services were outsourced and the global outsourcing industry produced a whopping 88.9 billion U.S dollars in revenue, last year alone.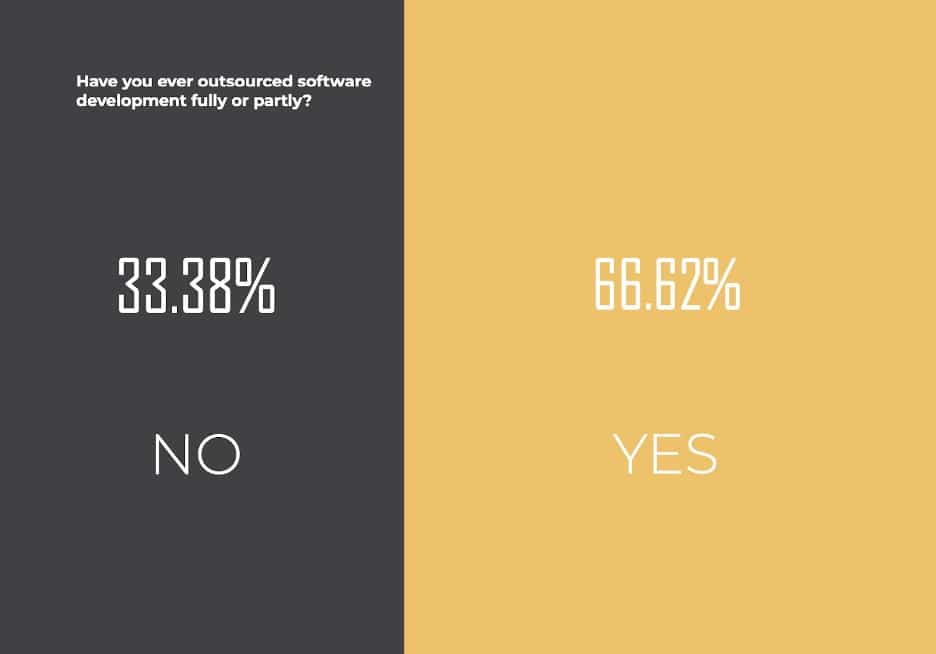 Outsourcing software development helps companies to reduce the costs that they incur and also helps them focus solely on business goals. It is not just beneficial for saving money but it is a great means of innovation.
Why Do Companies Outsource?
"As with many initiatives, organizations are finding that delivering competitive advantage through disruptive outsourcing solutions is anything but simple; effort and expertise are needed to address potential data security and cyber risks, changing regulations, organizational resistance, skill gaps, and to help flatten fragmented processes. In this new world, place your bets on the brave and the good, and against the fearful and complacent."
Doug Plotkin, managing director, Deloitte Consulting LLP
1. Time to Market
Time to market is basically the duration between the creation of a product idea to launching it in the market. If you have the development process streamlined and effectively planned out then it becomes easier to predict the time you will take for your launch. It is also extremely important to decrease this time gap.
Delaying your launch will allow your competitors to get ahead of you. The ephemeral nature of technology can also you're your product idea redundant and useless.

Hiring an outsourcing company helps you to make your delivery to the market much quicker, thereby reducing a considerable amount of time. This improves your competitiveness in the market and also gives you a head start among your contemporaries.
2. Access to Expertise
There might arise a situation where your company might lack people who are qualified enough for a big project. However, with hiring a dedicated team, you have access to the most qualified and experienced professionals. The hired outsourcing company will be the expert in the field and hence can make your projects professional.
Outsourcing of services can enable somebody who specializes in the field to apply their specific technical expertise to make your product better.
You get access to expert specialists like business analysts, project managers, fullstack software developers etc who can guarantee you a high-end product .
3. Domain Awareness
You might have a project that involves a complex technology. For this, you might require a team that has specific and deep domain expertise for that particular activity. It is not financially practical to recruit an in-house team merely for such a skill-specific project.
This is where outsourcing helps you. For example, if you want a team of developers for custom software development you can look for vendors that are proficient in custom software development.
4. Cost-Effectiveness
Offshore outsourcing reduces the overall business operating cost. It eliminates the need to hire permanent employees who have to be paid even after the completion of a project. This, in turn, reduces the cost of training and recruiting.
In most developed countries, companies have the added burden of paying the employees insurance, tax, security benefits and other collateral dues.
Outsourcing benefits in flexibility when it comes to termination of services. It eliminates the need to pay government-mandated compensation while terminating an employee.
With an independent outsourcing contract, they can simply change the service provider if not satisfied with the service.
Outsourcing software development are on a steady rise. More companies are now outsourcing both their major as well as minor projects.
Why do software outsourcings fail?
Even though the trend of outsourcing has grown, it also had high failure rates.
According to the data collected by Dun & Bradstreet's Barometer of Global, 25% of outsourcing project fails within two years and 50 % of them fail within the first five years.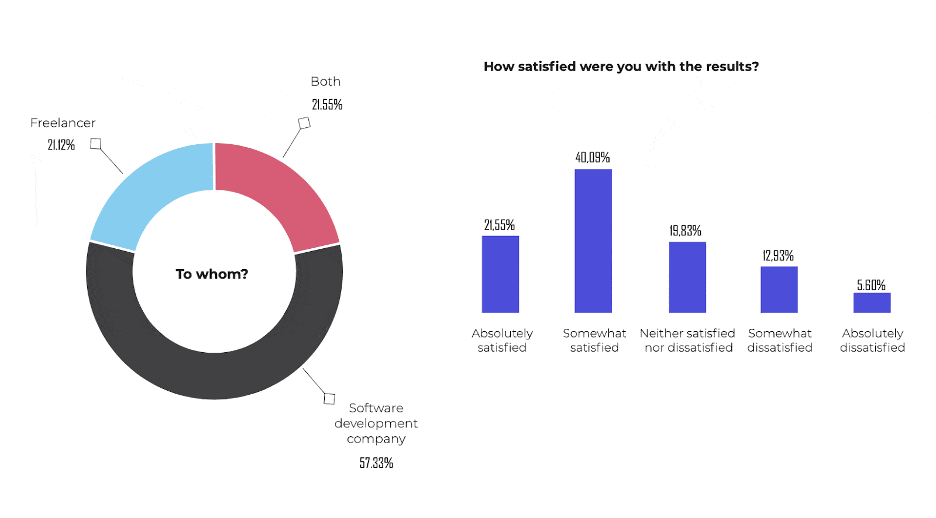 5 reasons why outsourcing relationships fail
1. Unclear Expectations and Objectives
Client companies often fail to communicate the goal they are trying to achieve and what they are expecting to get out of the outsourcing company. This will drastically affect the outsourcing company's perspective of the work they have to do.
Without a detailed understanding, orders might have to be changed. This can, in turn, lead to delays and cost overruns. There has to be a clear understanding of what the project entails and preferences. Clients have to be transparent about their goals and keep them realistic. Then you have to make sure that the outsourcing company is on the same page as you.
2. Lack of Clarity
Lack of overall clarity of the business can lead to poor planning. It can lead to a waste of your budget. You must succinctly pinpoint all the essential details about the project. The implications of the project must be communicated properly to the outsourcing vendor and other important stakeholders. A detailed portfolio of your expectations and goals and the entire plan and methodology of the project will help.
3. Insufficient Technical Experience
Most often, companies outsource software development to keep the cost low and also to not hire employees permanently.
The outsourcing company might not have the technical expertise or know-how, it can lead to severe problems, especially in project estimation.
The whole purpose of outsourcing services is to get the work done by somebody that is more equipped at it than your company. Therefore, if the company is not better than your own in-house team or lacks sufficient knowledge, the whole exercise becomes fruitless. You also outsource services expecting better quality than what you can achieve.
Quality that does not meet your market standards also lead to failed projects.
4. Communication Barriers
Clients sometimes do not share information thinking it is apparent.
However, if the outsourcing company is not aware of what they are expected to do, the project will not be finished as is expected.
What might seem apparent might not be apparent to the outsourcing company.
Therefore, all details have to be shared even if it might seem redundant. Ideally, there should not be a communication gap.
It is imperative to hold regular meetings and video conferences as well as exchange feedback.
28% of respondents indicated poor communication as the most important cause of outsourcing projects failure.
According to the white paper released by SourcingFocus.com
Sometimes the reluctance to share information might be due to confidential information which has the risk of being stolen.
To solve this, a confidentiality agreement or a non-disclosure agreement can be signed. This will delineate the security responsibility each party holds. Once this agreement is signed the outsourcing company will be bound not to disclose any information covered in the ambit of the contract.
5. Failure to Fine Tune Contract
Signing a contract with the outsourcing company does end the job of the clients.
The project needs to be managed and under supervision throughout the process.
The main priorities that the clients have should be set out and the project must be planned to the very details before a release date is announced. These details must also be informed to the outsourcing company.
Failure to have a consistent method and planning for the project can lead to a loss. Not every single thing can be planned but the tasks to the nearest milestone must be planned and specific.
These are some of the most common reasons why outsourcing relations and projects fail at a high rate. This can easily be avoided if the clients do their due diligence during the pre-deployment phase of a project.
Choosing the Right Development Partner
The planning that goes into the pre-deployment phase is what ensures a smooth launch post-deployment.
Choosing the right development offshore partner and building a good team can prevent your outsourced projects from failing.
Following are some of the guidelines while choosing your offshore team.
1. Team Skill Set and Expertise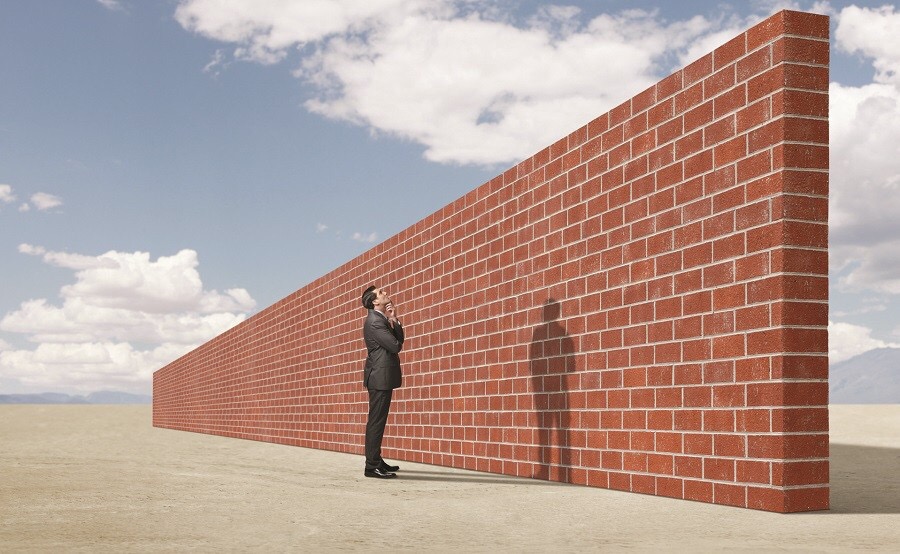 It is extremely important to study and know everything about the team you intend to work with.
You have to collect information about the company, what their skill set is, the expertise of their team, how adept they are with the latest technology, exposure to the latest technology, their portfolio, how effective are they with meeting deadlines, experience in handling different kinds of projects communication etc.
You must look for an offshore outsourcing partner that can give you the appropriate person to handle your account. It is advisable to keep in touch with a developer who is working on your project.
Going for a team that works with hybrid models or agile models will be beneficial for your project. It has to be made sure that they understand what exactly it is that you want and also that they are serious about achieving your project milestones.
2. Market Reputation
Working with the best company can yield you the best results. Therefore, it is important to check up on the market reputation of your prospective partner.
This can be done by taking a look at their client base and completed project history.
You can also look for reviews and feedback from their previous clients, from their website and other social media platforms.
You have to ensure that their services are customer-centric, that is services centered around the needs of the customers. All of these have to be considered before you decide to hire a particular vendor.
3. The Trust and Security Factors
Trust is a very important factor for such a project to succeed.
During the course of the project, you might have to share a lot of information. Sensitive information stands at the risk of being misused.
One of the major security concerns is the intellectual property of the client and the sensitive data.
Before hiring an outsourcing company, you can make sure that they will respect your privacy. The vendor must be somebody who has regular security and network audits.
You have to make sure that they have sufficient infrastructure to protect your data.
4. Scalability and Flexibility
Scalability and flexibility are important elements that you need to consider when you choose the company for your software outsourcing project. You have to check how much scalable their services are and how much customization they can provide. This is an important factor when your business is expanding. The software has to be scalable as per the growth of the business. Your offshore business partner must be able to handle your growing needs.
5. Project Management
There has to be a clear idea as to how the project will be managed. Signing the contract and handing over the project does not end your responsibility.
There has to be constant management throughout the whole process.
All the decision making and planning must go smoothly so that the project does not have any delay. The supervisory role of your client and the management of the project must be decided along with the key terms of the work contract. There must be several channels of communication between your in-house team and the offshore team so that your team can manage and supervise the project.
6. Post Deployment Support
Technical assistance is not only needed during the project put also post-deployment.
A small bug or technical glitch can cause a huge loss to your business. You have to inquire how your offshore partner is going to handle technical issues and updates. There has to be consistent post-deployment support to maintain your product.
Team Set-Up Process and Guidelines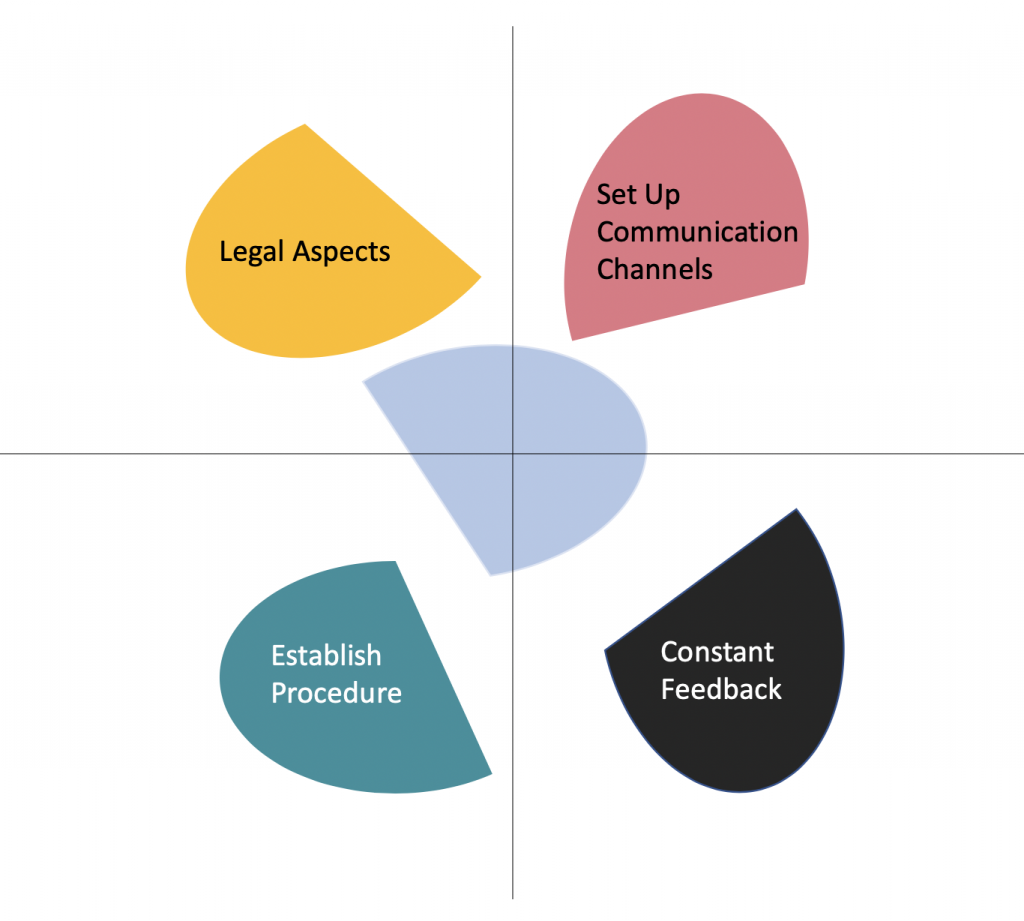 Software that you build or a product that you make is a long-term investment. So is the outsourcing partner you choose. It has to be an addition that will always be valuable to your business. Therefore, it is important to have a great team of developers.
Guidelines to follow while setting up a team.
1. Legal Aspects of Hiring a Dedicated Team
The legal aspects of building a team mainly include three important agreements: Non-Disclosure Agreement or NDA, statement of work or SOW and Master Services Agreement or MSA.
Non-Disclosure Agreement (NDA)

If your project involves sensitive information that you might have to share with your partner, then it is important to sign an NDA. The agreement must contain what the information entails, and that the information can only be disclosed for project-related purposes. This agreement will legally bind the partner from not disclosing the information. The agreement can also indicate the penalty in the event of a breach.

Statement of Work (SOW)

The statement of work agreement includes the scope of work, the product that has to be delivered, criteria for acceptance, the time period, the standards, deadline and any other terms and conditions or special requirements.

Master Services Agreement (MSA)

This agreement is what defines the cooperation with the offshore partner. You have to specify the payment, terms of paying, intellectual property rights, dispute resolution mechanism. The agreement must explicitly indicate that your company will own the copyright to the work that has been done by the team but they will have the rights to it.
2. Set Up Communication Channels
It is important to set effective channels of communication. Most of the communication can be done via online means like video conferencing. But a real-life communication bond has to be made so as to understand the team properly. An in-person conversation will be more effective and supportive.
Check Out these Articles:
| | |
| --- | --- |
| All-in-one solutions | Troop Messenger, BasicOps, TipHive, Hibox, Paymo, Hive |
| | |
| Managing tasks | Trello, Jira, Twoodo, Wrike, Worksection, Avaza, Taskworld, TeamGantt, Fusioo, Eylean Board |
| | |
| Document collaboration tools | Google Drive, Bit.ai, TipHive |
| | |
| Team communication tools | Skype, Slack, SocialChorus,UberConference |
3. Establish Procedure
It is important to establish procedures for the work. You have to foresee the questions and problems that the members might have. They should be aware of the work procedure and it has to be ensured that it is followed. There has to be a strict guideline as to who is responsible for what, whom to contact in case of issues etc.
4. Provide Constant Feedback
You have to be responsible in order to manage a team successfully. All the answers and questions of your software engineers have to be answered to make sure you get what you expect. You have to be equipped with the answers. Feedback is what will guide the team as to how their product development is going. There might be a situation where your feedback would dictate the next steps of the team. Therefore, it is important to provide constant feedback.
Examples of Successful Companies that Leverage Dedicated Teams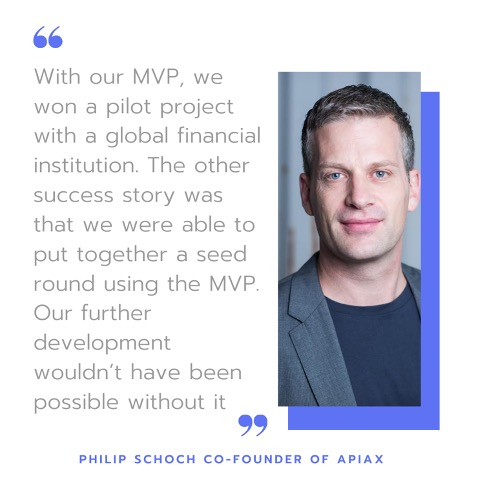 Apiax is a fintech startup that has proved that outsourcing can be successful business cooperation with the right partner and the right team.
They outsourced their Minimum Viable Product to an efficient Portuguese agency. They provide regulation services to financial service companies. They started off in 2018. However, by the end of the year, they have some of the most sought after clients in the banking industry. Moreover, they were also awarded the Early Stage Startup of the Year at the 2019 Swiss Fintech Awards.
GitHub is another company that went on to immensely succeeds due to their great outsourcing partnership yet again. They were helped by the offshore partner Scott Chacon.
Slack the company that collaborated with MetaLab was valued at $7,1 billion but this year, Slack is getting closer to revenue of $10 billion due to their outsourcing partnership.
WhatsApp has Igor Solomennikov who started as a contractor and later joined the team in California on a full-time basis. Thus, these companies go on to prove that successful outsourcing can revolutionize business.
Summary
As an entrepreneur in the technology industry, it is always in your business's best interest to find innovative ways to bring your product into the market. They have to be faster yet cost-effective.
Fortunately, the technology has advanced so much so that the core competencies of your business can now be taken care of by experts offshore in any part of the world.
Outsourcing has proved to be the most lucrative in the software industry.
It reduced the overall business cost including, compensation, tax, wages etc.
Although there are instances where an outsourcing partnership might fail due to factors such as lack of experience, a poorly drafted contract, communication barriers, unclear objectives etc., it can improve your outcome and make business more financially sustainable for your business.
It is also very easy to mitigate these risks by following a strict guideline while choosing your offshore development partner and also while setting up a team.
With the help of the right software development partner like aTeam Soft Solutions, we ensure that your idea gets translated into a market redefining product. Talk to our expert today!
To know more about aTeam Soft Solutions offerings, drop a mail to sales@ateamsoftsolutions.com